The days that IGTV used to be new have long gone, and now almost everyone who uses Instagram is familiar with IGTV.
On the other hand, the best IGTV hashtags for getting more views are relevant to the topic that has not yet been clearly explored and talked about in detail.
We will demystify the hashtags strategy so that you could get more IGTV views and more of everything you need for your Instagram business or account.
Before we move forward, one of the biggest and obvious differences between regular videos on Instagram, and IGTV is that any video post longer than 1 minute is automatically an IGTV post.
Why Use IGTV for Video Content
There are two main things that make IGTV a better option for video posts than reels even against the surge of demand for short videos.
Many people don't pay attention to and/or perhaps don't notice that IGTV videos take more space when they show up.
Have you ever noticed that there is always a video on the Explore page that takes almost 4 times the size of carousels or other posts?
This is how an IGTV post is shown as the platform promotes the Instagram TV feature.
So, you could help the algorithm and the platform by posting good quality and engaging videos that are longer and would represent IGTV in the best possible light.
As a result, you get more views easily.
Additionally, there is one more important aspect of IGTV videos that is far more beneficial than other aspects. 
It is a fact that you can share links over your videos. If you are planning on promoting your business or a website outside the platform, leaving links will not only affect your SEO (search engine rankings) of that specific site but might as well bring more traffic. 
🔥 You may also check a separate blog post on Instagram SEO, where we outline the 4 step strategy to optimize your posts for the most likes and views.
Can You Add Hashtags to IGTV?
The short answer to this question is yes. However, even more, important is how and what hashtags you should add.
At the end of the day, you don't want to be copying and pasting the same hashtags over and over to every video you have.
We will of course include a list of hashtags for IGTV with each table being dedicated for different occasions. But we also want to teach you how to find relevant Instagram hashtags yourself.
After all, giving a man a fish feeds him only for a day, while teaching a man how to fish sets him up for life. 
Hashtags for IGTV should be utilized in the optimal ways possible. In fact, you can add as many as 30 hashtags to IGTV videos. Yet while using all 30 is sometimes a good idea, 10-15 hashtags seem to be the best.
Keep in mind that sparing them helps but little, as is overusing.
Now let us talk a bit about where to put hashtags on IGTV then, we move on to talk about tags.
Where to Put Hashtags on IGTV
When using IGTV, hashtags are as important as they are if you were to use them on picture posts. In fact, with IGTV having a lower engagement rate and fewer visits it is even more important to use hashtags.
Since IGTV has fewer visits, it also means that this feature is less competitive than other features on Instagram. For example, the photos, which were the actual types of posts that the platform was built upon.
When you upload a video you will have the chance to write a title and description and even leave a link regardless of the number of followers you have or not.
Where should you put hashtags? Should you put them in the body of your description or title?
Include your hashtags in the body of your description. Not at the end, or in the beginning, right in the middle of where you are explaining what the post is about.
The reason for this is both psychological and practical.
People usually don't really read your bio or the description of your videos, to be honest. What is worse is even when they read, they rarely remember what you wrote there.
By including the hashtags in the middle of the description, you make the readers pay attention to the hashtags, which are naturally short and easy to remember. That increases the chances of someone remembering your video if they are ever to read the description.
IGTV Hashtags and Strategy
The last topic before we give out the list of hashtags is the strategy you should use with IGTV hashtags. Although you know where to include them, which we discussed earlier.
The truth is that just by placing hashtags, you won't be getting more views.
Because we all know there is way more to Instagram than just the hashtags we use regardless of what we are posting whether a video, photo, or even IGTV material.
There are three important things when it comes to IGTV videos specifically. They are:
Cover image
Title
Description
The cover image is the equivalent of what the YouTube thumbnails would be. So, they are very important to get the attention of a person to look at your video.
Making the cover image as engaging as possible with a bit of controversial tone is what brings results and is something that we recommend as well.
The title is how you name your video which again should be as interesting and engaging as possible. You can in fact, write borderline contentious titles that claim attention.
Obviously, the description is where you add your IGTV hashtags but also give an introduction to a video. Besides the hashtags, keywords for IGTV are equally important in getting your post featured.
Best IGTV Hashtags
You should always start your hashtags with the following:
3-9 popular and general hashtags,
3-9 popular hashtags within a category,
3-9 niche hashtags
Thus, you will have some hashtags that you may use every time, but you cannot use the same hashtags for each and every video
We will give the list of some of the most basic ones that you can use all the time but you should add on top of that more from yourself:
#IGTV
#IGTVchannel
#IGTVvideos
#instagood
#explorepage
#viral
#trending
#explore
#IGTVcommunity
These are just 9 of the most common IGTV hashtags that you can use regardless of the type of video you post
You should not forget to add your own ones though. They can be anything from modeling to cars, from kitchen stuff to kids, etc.
If you are to post a video where you teach, say, programming you should include hashtags that are specific to that field and are tailored for that audience like in the image below.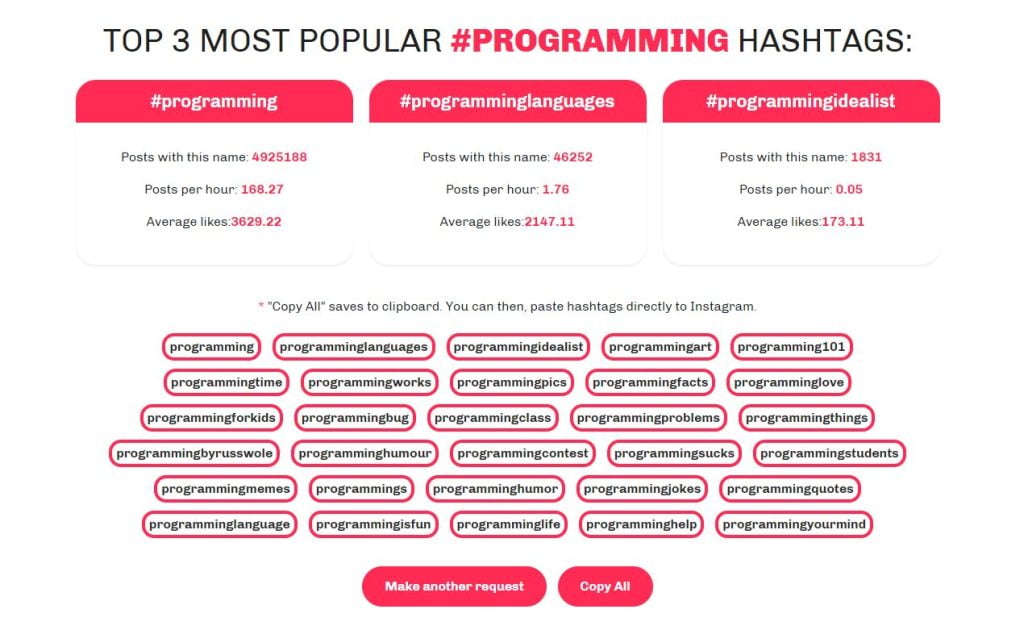 The results are generated by our free Instagram hashtag generator tool while entering the primary keyword as "programming".
To Wrap Up
When it comes to the best IGTV hashtags for getting more views, there is a little more you need to do than just pick a few hashtags and hope for the traffic to arrive.
The best hashtags for IGTV are the ones that describe your video, niche, or POV.
You are always better off finding new hashtags for each IGTV post. That said, the primary ones describing your niche and/or brand should be present on each post you upload.